GUUS FRINTS WINT NEOPERL PRIJSVRAAG!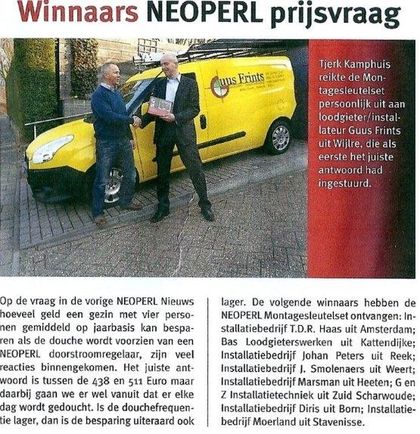 Welkom op de site van:
Guus Frints
Loodgieters- en Onderhoudsbedrijf.
VCA VOL gecertificeerd.
Mijn bedrijf is van start gegaan op 31 mei 2010. Het is een jong en dynamisch bedrijf dat zich richt op het uitvoeren van loodgieterswerkzaamheden in de breedste zin van het woord.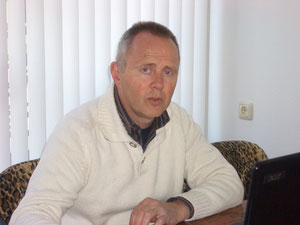 Het bedrijf
Door mijn jarenlange ervaring en het zelfstandig werken ben ik in staat een stuk vakmanschap neer te zetten. Het is mijn streven om samen met mijn klanten situaties en problemen snel te doorzien en oplossingen te bedenken. Ik vind het belangrijk dat ik vanuit mijn optiek een steentje kan bijdragen aan andere mogelijkheden of oplossingen waar de klant zelf misschien nog niet aan gedacht heeft. Maar... uiteindelijk blijft de klant koning.
Sanitair
De werkzaamheden op sanitair gebied richten zich op de badkamer, de keuken en het toilet. Het is belangrijk dat zowel het zichbare- als ook het onzichtbare werk (de leidingen in de muur) correct uitgevoerd worden. Hiervoor bekijk ik vrijblijvend samen met de klant de bestaande situatie en de mogelijkheden, de materiaalkeuze en het kostenplaatje.
Medische aanpassingen
Met de term Medische Aanpassingen wordt bedoeld alle aanpassingen die nodig zijn om zo optimaal en zo lang mogelijk gebruik te kunnen maken van de huidige woning. Het zogenaamde "doorwonen". U kunt hierbij denken aan bijvoorbeeld het plaatsen van beugels op de badkamer en op het toilet en het aanbrengen van een douchezitje. Ook het verlagen van de instap van de douche behoort tot de mogelijkheden. Het toilet kan op de gewenste hoogte geplaatst of opgehangen worden.
Lood en zinkwerk
Op het gebied van lood- en zinkwerk kan mijn bedrijf het volgende voor u betekenen:
het onderhoud aan dakgoten en het repareren en/of vernieuwen hiervan;
het bekleden van dakkappellen met zink (denk bijvoorbeeld aan de traditionele manier van zinkverwerken als ook aan het verwerken van zink middels felsnaden);
het repareren en aanbrengen van loodindekkingen bij schoorstenen en platte daken;
het repareren en aanbrengen van zinken hemelwaterafvoeren;
alle andere werkzaamheden in en om het huis waarbij zink en lood verwerkt kan worden.
Dakwerk
Het onderhoud van het dak wordt vaak over het hoofd gezien. Pas als er een lekkage is wordt de vakman om hulp gevraagd.
Het is belangrijk om regelmatig het dak te laten inspecteren en zodoende problemen te voorkomen. Vóór de winter is het raadzaam uw dakgoten en afvoeren te ontdoen van bladeren en andere vervuiling.
Mijn bedrijf kan u helpen bij het inspecteren, onderhouden, repareren en eventueel vernieuwen van uw dak. Dit betreft platte daken, pannendaken en leiendaken. Ook het maken van een nieuw dak bij een aanbouw, serre of dakkappel behoort tot de mogelijkheden.
Laat u vrijblijvend adviseren en neem gerust contact op!